A Letter to Claire Reis (November 1, 1942)
Elliott Carter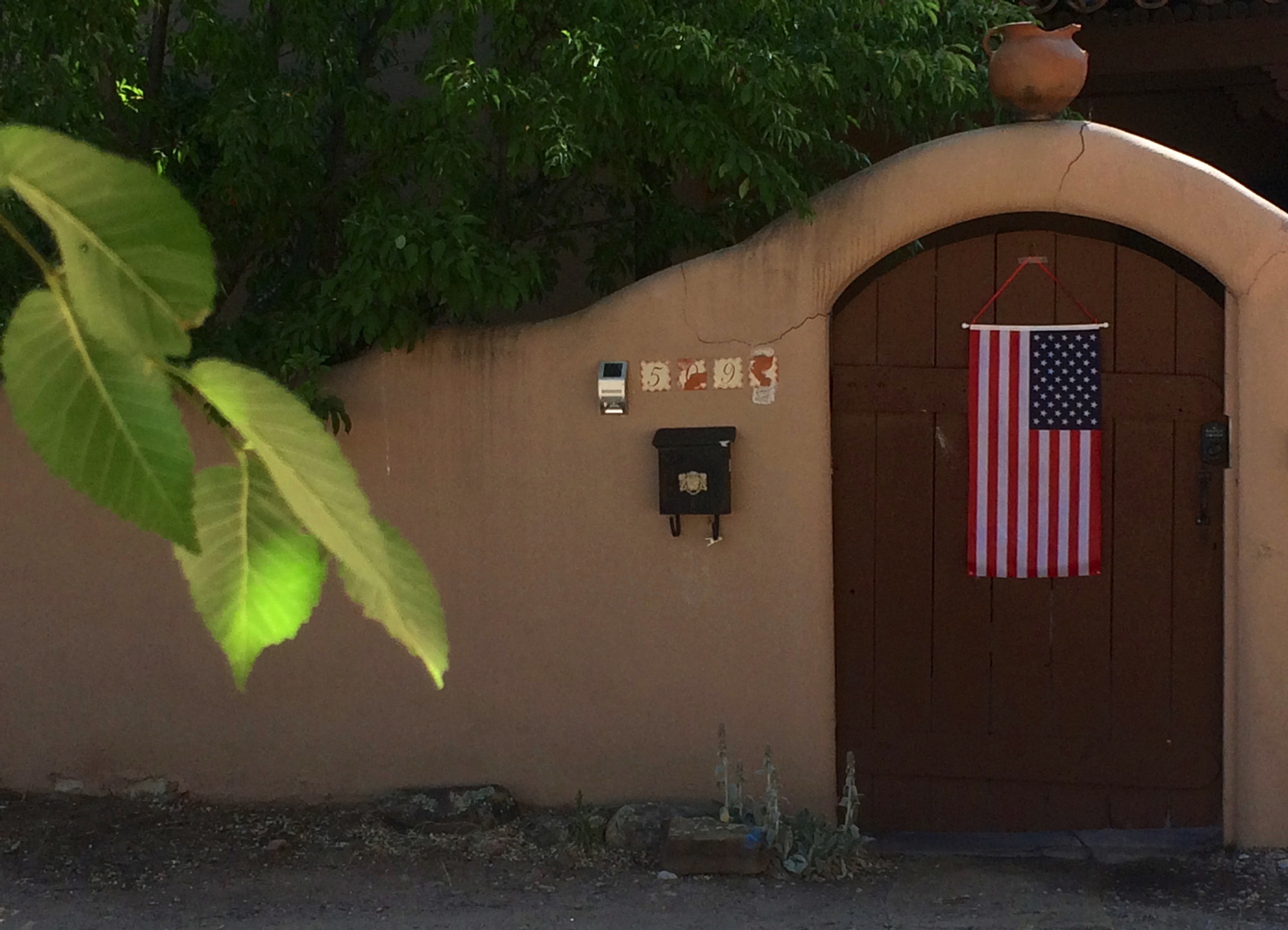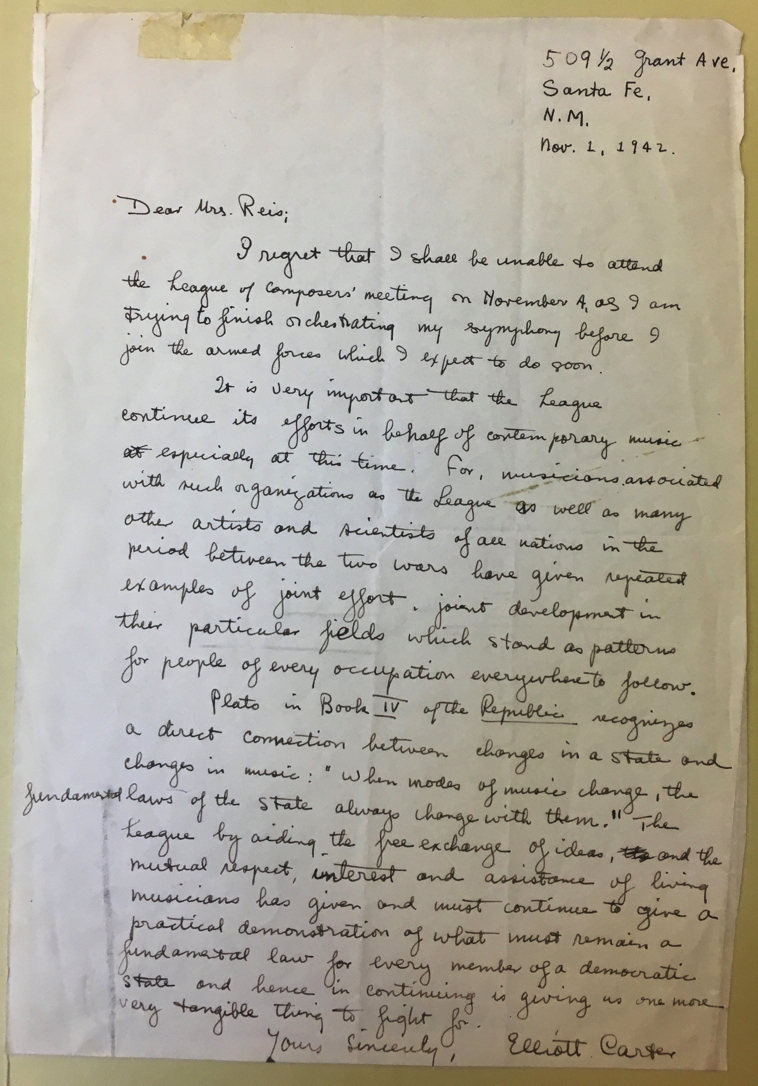 Editor's Note: After summering in Cape Cod, Helen and Elliott Carter spent the last months of 1942 in Santa Fe, New Mexico, where they stayed in one half of a two-family pueblo-style house at 509 1/2 Grant Street, just north of the Plaza. In the letter published here, dated "Nov. 1, 1942," Elliott Carter sends his regrets at being unable to attend the board meeting of the League of Composers to be held three days later in New York City. (Carter had joined the board in 1939.) The letter is addressed to Claire Raphael Reis (1888-1978), co-founder of the League and President from its inception in 1923 until 1948. Rather than referring to the difficulty of making a trans-continental journey to explain his absence, Carter instead cites his pressing need to complete the orchestration of his Symphony [No. 1] "before I join the armed forces which I expect to do soon." (Carter was writing some six weeks before his 34th birthday; he was classified 4-F – "not qualified for military service" – for medical reasons and later worked for the Office of War Information instead.) Written less than a year after the entry of the United States into World War II, Carter's letter illustrates the patriotism and sense of duty and responsibility that many Americans felt at the time. He takes pains to indicate that his absence from the League meeting should not be taken as a lack of interest in or support for its activities. Indeed, he expresses his belief that the League is part of a widespread effort by "musicians… artists and scientists of all nations" that serves as a model for "people of every occupation." In his final paragraph Carter expands the scope of this claim, noting that the League's promotion of "the free exchange of ideas, and the mutual respect, interest and assistance of living musicians" is a lesson for "every member of a democratic state." And, in the culmination of the letter's rhetorical crescendo, Carter quotes Plato's Republic, Book IV, in the translation by Benjamin Jowett that would have been familiar to him from his teaching the "Great Books" curriculum at Saint John's College during the 1940-41 and 1941-42 academic years: "When modes of music change, the fundamental laws of the state always change with them."* The idealistic enthusiasm that Carter expresses in this letter – which goes well beyond the initial tone of mild flattery – makes a striking contrast with the more ambiguous view of the artist's contribution to society heard in his The Defense of Corinth composed some eighteen months earlier, the summer before the attack on Pearl Harbor.
– John Link
* Ironically, Plato is here quoting Damon to shore up his contention that "any musical innovation is full of danger to the whole State, and ought to be prohibited." (Plato, Republic, Book IV, Benjamin Jowett translation.)
— ◊ —
509 1/2 Grant Ave.
Santa Fe,
N.M.
Nov. 1, 1942
Dear Mrs. Reis,
I regret that I shall be unable to attend the League of Composers' meeting on November 4, as I am trying to finish orchestrating my Symphony before I join the armed forces which I expect to do soon.
It is very important that the League continue its efforts in [sic] behalf of contemporary music especially at this time. For, musicians associated with such organizations as the League as well as many other artists and scientists of all nations in the period between the two wars have given repeated examples of joint effort, joint development in their particular fields which stand as patterns for people of every occupation everywhere to follow.
Plato in Book IV of the Republic recognizes a direct connection between changes in a state and changes in music: "When modes of music change, the fundamental laws of the state always change with them." The League by aiding the free exchange of ideas, and the mutual respect, interest and assistance of living musicians has given and must continue to give a practical demonstration of what must remain a fundamental law for every member of a democratic state and hence in continuing is giving us one more very tangible thing to fight for.
Yours sincerely,
[signed] Elliott Carter