From One Dissonance to Another: The Maureen Beedle/Helen Carter Correspondence
Dr. Helen C. Thomas
Abstract
In 2011 the charismatic UK publisher and new music promoter Maureen Beedle passed away in France. Amongst her estate were 129 previously unpublished letters that document her promotion of Elliott Carter's music in the UK and Europe on behalf of G. Schirmer (London). The letters disclose a previously neglected area of Carter studies as they highlight the work of Helen Carter and Maureen Beedle as cultural intermediaries prior to Elliott's publishing switch to Boosey & Hawkes in 1982.
The twenty-five letters presented here relate to the promotion of Syringa (1978). Detailed information relating to scores, corrections, recordings, reviews, and travel schedules together with references to well-known figures of the time including Sir William Glock, Paul Fromm, Charles Rosen, Irvine Arditti, Pierre Boulez and Ernst Krenek appear in these pages. There is also insight into the successes and frustrations of forging and maintaining a compositional career, snapshots of the Carters' busy lives divided between the peace of Waccabuc, social activity in New York, and gruelling travel in the US and Europe. What might have been a rather formal correspondence is enlivened by the warm reciprocal friendship between Maureen, her husband Michael, and the Carters.
---
Introduction
In 2011 the charismatic UK publisher and new music promoter Maureen Beedle passed away in France. Amongst her estate was a collection of 129 previously unpublished letters documenting her promotion of Elliott Carter's music in the UK and Europe on behalf of G. Schirmer (London). The bulk of the correspondence between Elliott, Helen, and Maureen covers the period 1975 to 1982 prior to Elliott's publisher switch from AMP-Schirmer to Boosey & Hawkes. Meyer and Shreffler (2008Meyer, Felix and Anne C. Shreffler. Elliott Carter: A Centennial Portrait in Letters and Documents. Woodbridge, Suffolk: The Boydell Press, 2008., 245) have suggested that the change to Boosey & Hawkes marked an increase in enthusiasm for Elliott's music which whilst it was "not sudden or unprecedented… was qualitatively different from the occasionally condescending treatment he and his music had received earlier." Although these letters expose some of the difficulties that the Carters experienced with AMP-Schirmer in the States they also disclose a previously neglected area of Carter studies. They highlight the work of Helen and Maureen as "cultural intermediaries" working together to promote Elliott's music effectively into Europe and, at the same time, to protect him from the demands of an escalating reputation so that he could continue to compose relatively undisturbed.
The letters are filled with detailed information about scores, corrections, recordings, reviews, and travel schedules which are posted back and forth across the Atlantic, sometimes as often as once or twice a week. There is also insight into the successes and frustrations of forging and maintaining a compositional career, snapshots of the Carters' busy lives divided between the peace of Waccabuc, social activity in New York, and grueling travel in the US and Europe.
What might have been a rather formal correspondence is enlivened by the burgeoning friendship between Maureen, her husband Michael, and the Carters. The modes of address become increasingly affectionate and there is notable concern for each others' wellbeing. The friendships can be seen to develop not only through the business of music but also through exchanges about the weather, holiday plans and occasional inconveniences brought about by wide scale industrial unrest. Presents are exchanged and the Carters subsidize Maureen and Michael's trips to Carter concerts in Europe as well as a trans-Atlantic visit. These tokens of friendship indicate a rare level of mutual trust and interdependence that is reminiscent of the Elgar/Jaeger correspondence.
The strength of the rapport is abruptly tested in 1982 when Maureen discovers that the publishing rights for Elliott's first UK commission In Sleep, In Thunder, which she has helped to negotiate with the London Sinfonietta on behalf of Schirmer, have been offered to Boosey & Hawkes. Maureen writes to Helen that she is "terribly hurt" and has been made to look "rather silly" in front of her peers, she feels that "practically everybody in London knew except me." The process of rebuilding confidence must have been carried out by phone as unfortunately no further letters refer to this incident, and the friendship continues into Maureen's retirement to France in the early 1990s.
Interestingly neither Helen nor Maureen express personal opinions on Elliott's music. Their support is unquestioningly loyal and supportive of Carter's position as the "Last Great Master" of American music. Their closeness to Elliott's working habits and commissioning schedule puts them in a position of authority and provides privileged access to performers and patrons of the arts. Well-known figures of the time including Sir William Glock, Paul Fromm, Charles Rosen, Irvine Arditti, Pierre Boulez and Ernst Krenek make appearances in these pages.
The 25 letters that appear here all relate to the "business" of promoting Syringa, a work written in collaboration with the poet John Ashbery (b.1927) thanks to a Composer-Librettist Grant from the National Endowment of the Arts. Carter set Ashbery's poem Syringa alongside Ancient Greek texts relating to the cult of Orpheus for mezzo-soprano and bass soloists and an ensemble of eleven instruments (guitar, alto flute, English horn, bass clarinet, tenor/bass trombone, piano, violin, viola, cello, contrabass, and percussion). The piece is dedicated to Sir William and Lady Anne Glock and the world premiere was given by Jan de Gaetani and Thomas Paul with Speculum Musicae, conducted by Harvey Sollberger, at a 70th birthday concert at Tully Hall, New York City on 10 December 1978. The first performance outside the US took place at the Bath Festival in England on 30 May 1979 when the performers were Sarah Walker, Stephen Roberts and the Nash Ensemble conducted by Lionel Friend. The letters reproduced here chart the history of the Syringa from its delayed completion and the impact on other commissions, through the US and UK first performances, to repeat performances, a commercial recording and public service radio broadcasts. Other works are also discussed, most notably the Piano Concerto (1964-5) and A Symphony of Three Orchestras (1976), as well as negotiations around the commissioning of In Sleep, In Thunder (1981).
Further research on these letters will investigate the reciprocity of the composer-promoter relationship, the apparent gendering of this relationship, and how the activities of repertoire promoters help to reinforce and perpetuate a Modernist presence in art festivals and public broadcasting programmes.
In 1983 Maureen moved from Schirmer to become Repertoire Promotion Manager at Oxford University Press. In 1987 I was appointed as her assistant and was delighted to find a fellow enthusiast for High Modernism. Maureen was a wonderfully kind mentor and highly skilled in the arts of music promotion. In due course she retired with Michael to the South of France and I was appointed her successor. We remained lifelong friends and I am very grateful to Maureen's brother, Ernest, and sister-in-law, Eileen, for giving me this collection of letters in memory of that friendship.
Permission to reproduce these letters has been granted by Music Sales Corporation and The Amphion Foundation, Inc.
---
Letters
[39]
Waccabuc
21 June 1978
Dear Maureen,
Thank you so much for sending the Tributes.(1)70th Birthday Tributes published by G. Schirmer (London). I was glad to have them, since others did want copies and now I find that all have been sent away. Could we ask for 12 more or is that a little too much? Was one sent to Paul Fromm?
About Dartington [International Summer School], Elliott did say yes when William [Glock] asked him to be there in August, as we do so like being down there, and to be near Anne and William. Now the concern is about my health, because of the medicine I am taking my diet is very restricted as are my activities (at least I'm grateful not to have such headaches and splitting earaches and to have avoided partial blindness).(2)Helen had been prescribed Prednisone, a corticosteroid drug, to treat an inflammatory muscular condition. In any case we are still uncertain about leaving here.
Elliott is just finishing his song cycle Syringa, text English by John Ashbery - Greek text by E.C. – for a man and woman's voices, chamber orchestra. Speculum [Musicae] will premiere this at Tully Hall Dec. 12th.
Now, summer has really hit N.Y. City. I was there for a day, it was humid & 88°. Here it is always 10° cooler so we do like to stay put.
Thanks again for everything dear Maureen. You will hear about our Dartington decision soon.
All the best to you and Michael, I do hope this finds you both well.
Love
Helen
Best to Julian M[itchell]-D[awson].(3)Also on the staff of G. Schirmer (London).
— ◊ —
[42]
Waccabuc
21 July 1978
Dearest Maureen,
Thank you so much for your kind letter asking about my health. Well I am getting along now but it is slow. Not that I suffer at all, it is just keeping to a very restricted diet, no spices – no liquor, coffee weak 1/2 milk, all very bland foods until I stop this medicine. In any case I should not be able to travel and keep this regime.
Elliott I am afraid, has not answered re- a suggestion for a conductor for the Piano Concerto. Naturally [Charles] Mackerras knows it now and that should be considered and of course E thinks Charles Rosen unbeatable. If there are second thoughts – that is Mackerras not available perhaps Michael Gilbert – we think highly of him (Or Boulez – but I'm afraid he is just too busy in Paris and Germany). Any way E is delighted it will be done at the Proms.
Our summer has been wonderfully warm – but not hot sunny & only yesterday it all turned now near 80° - NYC 90° and there it is humid. However we can go in our lake to cool off 2 x a day. Elliott working away on Syringa much longer than he expected but more than half the score is written out.
I'll write soon again. We have news of an impending mail strike. I should much like to get this off before that. All best to you and Michael.
Love
Yours Helen
I was told AMP are receiving hundreds of your London Birthday tributes. I do so hope they pay for them. Boosey and Hawkes sent me three copies of Tempo complimentary. Schirmer sent 1 extra copy Musical Quarterly with bill!
David Schiff – He is writing the book on EC for Sir William's Press – will arrive London Aug 10th to visit at Dartington – he probably will try to call you if it is OK.(4)Sir William Glock was Commissioning Editor of Eulenburg books on music for Schott's from 1973-1986.
— ◊ —
[44]
Waccabuc
14 August 1978
Dearest Maureen,
This is really an SOS. Michael Vyner is indeed quite ahead of everything.(5)Michael Vyner was Musical Director of the London Sinfonietta from 1972-1989. Elliott has not even started the work for The London Sinfonietta. I doubt very much, even if he does get to work on it in September, that he will have parts ready for their players. Please let MV know this, sorry but Syringa has taken much more time than Elliott planned on.
William Glock has programmed it for the Bath Festival (to be first UK performance). Just now E is scoring out last half of Syringa. He has been working 7 days a wk. Then he too became quite tired & ill for 3 days, however all is well again. We do so tell you our troubles, Maureen.
We only hope you will find pleasant weather in France, yet I have been told Paris was cold and rainy in July. Here it has been damp – some rain & hot. Tomorrow NYC will be in the 90°, today only 88°, but we are 10° cooler in this part of the country, thank goodness.
I believe David Schiff will call on you while in London.
We never did get more of your wonderful Birthday Tributes – were some sent to AMP? If so they have neglected to send us some.
Much love to you and many thanks again.
Yours
Helen
We do hope to be over there in late Jan or Feb.
— ◊ —
[45]
Waccabuc
18 August 1978
Dear Maureen,
It was so nice to hear your voice, how we wanted to go to Dartington – but now it turns out so much for the better – since Elliott has finished Syringa.
Have a good trip to France. All the best to you and Michael.
Love
Yrs
Helen
Charles Rosen's Diabelli Variations recording has received tremendous reviews here – "finer than Brendel & Schnabel," "One of the greatest performers." If you do not have this record I'll send it with pleasure.
— ◊ —
[46]
Waccabuc
23 August 1978
Dear Maureen,
Sorry to bother you again, but we do not have the day of March 1979 – when the BBC will perform Elliott's Symphony of Three Orchestras. Do you know it?
David Schiff was much pleased to meet with you and Julian M-D. Thank you for all your kindness. I do believe from what I read that his book will be a good one, anyway we do hope so. E has finished Syringa, tomorrow I go into NYC (ugh! hot 90°) to have blueprints made of parts. Two fine singers Jan DeGaetanei mezzo and Thomas Paul bass have had their parts 10 days. Both wrote they tremendously look forward to singing them.
Paul Fromm is a wonderfully admirable man, for so many years he has supported the F[romm] Music Foundation (all his own money) which has encouraged contemporary music – young composers – and groups which play modern music at Tanglewood. Each year they give a wk of music at the FMF concerts – each winter in Chicago and in LA other M[odern] M[usic] concerts. Now he has come to the aid of M. M. chamber groups (all in need of funds). P. F. is not a tremendously rich man. He is a small wine merchant-importer – lives most modestly – his wonderful wife Erica is a Professor of Uni of Chicago (Psychiatrist). This yr he is supporting an all-Carter concert at Hartt College (music), part of Hartford College at Hartford, Conn. Feb 1st. This we were told of only yesterday. My, what an admirable man, he is – and all for contemporary music. No, not all – he is much involved with the Inst. for mentally retarded in Chicago.
AMP (ugh!) still has failed to send me the Birthday Tributes you sent them. I called in a rage to ask Sweeney if he sent them to their warehouse (which is the same as a graveyard).
All best wishes,
Yrs
Helen
— ◊ —
[52]
London
18 December 1978
[To Elliott & Helen, New York]
I do thank you both so much for looking after me so beautifully whilst I was in New York. You were both so kind and welcoming – and all that delicious food!! I enjoyed myself tremendously and I'm afraid I'm becoming a terrible bore as I haven't stopped talking about it since I got back.
Elliott – I was very happy to find when I arrived in the office that the Nash Ensemble had asked Hilary to send a score of Syringa to Sarah Walker. She is one of our finest mezzo-sopranos and gave a marvellous performance of John Buller's Proença at the Proms last year. I think you can be fairly confident that Syringa is safe in her hands and if the other musicians are half so good, it should be a memorable performance.
If you do have the map framed please, dear Helen, let me know how much it costs as I should like to pay for it.
I hope you both have a lovely Christmas and that your foot, Helen, stands up under the strain, that is if you don't manage to have it done before.
[From Maureen]
— ◊ —
[55]
New York
1 January 1979
Dear Maureen,
Happy New Year. All best wishes for a Healthy one to you and Michael.
It was good to get your letter about the Nash Ensemble's interest in Syringa. Will they be able to get a very good bass, as Elliott thinks that is the most important role and the most demanding?
The map is already settled in a frame I had in Waccabuc, one that matched a group I have in my study where there are several old maps of Italy and the continent.
There has been quite a lot of social activity in our NY musical world especially during the holidays. At several gatherings members of Boosey & H[awkes] – but not a soul from AMP-S[chirmer]?
Now we are hoping for a quiet time for which my stupid foot will be thankful.
Thank you so much for coming over here Maureen, it was truly lovely for us to have you with us. Now we look forward to seeing you in March in dear old London. I have decided to go in spite of a split shoe that I shall be obliged to wear.
All best wishes,
Helen
These stamps came off your letter.
— ◊ —
[56]
London
8 January 1979
[To Helen Carter, New York]
Thank you both for your communications – your letter of January 1st and the little note with cuttings enclosed. I can't read the Italian one! I'm enclosing Bayan's piece in case you haven't seen it.(6)Bayan Northcott, English composer and, in 1979, critic for The Sunday Times.
I'm so glad you're coming in March; that's the next thing to look forward to. Life seems a bit dull now all the New York and Christmas excitement is over. One of my NY City Hall photographs of Elliott and the Mayor came out quite nicely, though a bit dark. I'll show it to you when you come and you can decide whether you want a copy.
Bath Festival runs from May 18th until June 3rd with Syringa on May 30th. Are you going to come? The bass soloist is someone called Stephen Roberts. I haven't heard him sing but I'm assured he's very good. Bayan's trying to find out more and I'll let you know.
We've had a great freeze-up here ever since New Year's eve when it snowed heavily. It's thawing now, thank goodness, but the tanker drivers have gone on strike so there's no petrol and the lorry drivers have gone on strike so there's not much food and on Wednesday the train drivers are going on strike so I shan't be able to get to work. What will become of us?
I'm also sending you an article from the Listener – re-print of a talk given on the radio by Ned Rorem. Sorry about the caption under the photograph – it should, of course, read 'Last Great Master'. They've promised to print an apology.
[From Maureen]
— ◊ —
[57]
New York
25 January 1979
Dear Maureen,
It was good to talk to you the other day. A few things should have been said, but one always forgets on the long-distance 'phone.
Would you kindly call up a David Thompson of the BBC Television – Open University and ask him about the film he made of me reminiscing about Charles Ives in Ives' house in Connecticut this summer. I am most eager to see all of the material they took (even parts they may have edited out) while I am in London – also I would like a copy of the video tape of this to bring back, if it is ready – while I am there.
Nicholas Snowman of IRCAM in Paris has asked me to send a score of Syringa at once. If you have sent it already to Boulez please write Nicholas that you have, (it could very well be lost in a pile of MS on his desk) and if you have not and do still have an extra copy, please do sent it at once. If all your copies are out to players and singers, please let the NY office know at once – It is important that the work be considered for the next season, which is being decided now.
I am writing him, that the work is having its European premier at Bath – etc.
Joan Peyser sent a copy of Andrew Porter's review in the Financial Times – it was good of him to be so enthusiastic – there were very few others, who, so far, have even committed themselves to print beside Leighton Kerner and Bayan. Plans for recording are going ahead – but so far I have not been able to get engagements for the two excellent singers who gave the premiere.
Helen is in the hospital with her toe fixed this morning and will be home tomorrow, I think. She will feel ever so much better not having to worry about that.
She joins me in sending our love to you and Michael.
It was so good having you here.
Elliott
— ◊ —
[58]
London
8 March 1979
[To Helen, New York]
I just had your letter this morning and hasten to answer it – I hope this arrives before you leave. Attached is a list of the records which I have; if there are any others, I would love to have them.
I heard about John Sweeney leaving. I think he's setting up in business on his own as a printer (not music). I also regret his going – he was a gentleman!
Thank you for your kind inquiries about our car accident – how did you hear about it? We're both perfectly all right now and Michael hasn't even got any scars although he went through the windscreen. I think they must have done a very good job of stitching him at the hospital. Did you know that William Glock had an accident on the same day in exactly the same circumstances and walked away from it uninjured? I saw him at the Bath Festival reception when they announced the UK premiere of Syringa.
I look forward inordinately to you coming!
[From Maureen]
— ◊ —
[62]
Los Angeles
26 April 1979
Dear Maureen,
Hastily about Syringa. We will get a good performance, I think, tomorrow which will be well taped + sent you immediately.
I enclose the correction of a shocking mistake I made in the score [which is also in the violin part] at measure 179. I modified the violin and viola parts + ask you please to have what I send put in.

The trombone part really comes out, for the most part better on the bass trombone, than the tenor-bass trombone indicated in the score.

If the player can negotiate the higher notes as softly as indicated, on the bass trombone, then the whole part can be played on that instrument. Otherwise he can change from one to the other:

| | |
| --- | --- |
| 48 | bass trombone |
| 114 | tenor-bass |
| 160 | bass |
| 188 | tenor-bass |
| 283 | to end, bass |
The Mayor of Los Angeles has proclaimed tomorrow "Elliott Carter Day" and I have to attend a ceremony at the City Hall! Life has been busy like that all week, filming (classes, lessons, lectures) and lots of other teaching. Nice weather but can't get out to enjoy it.
Best to all,
Elliott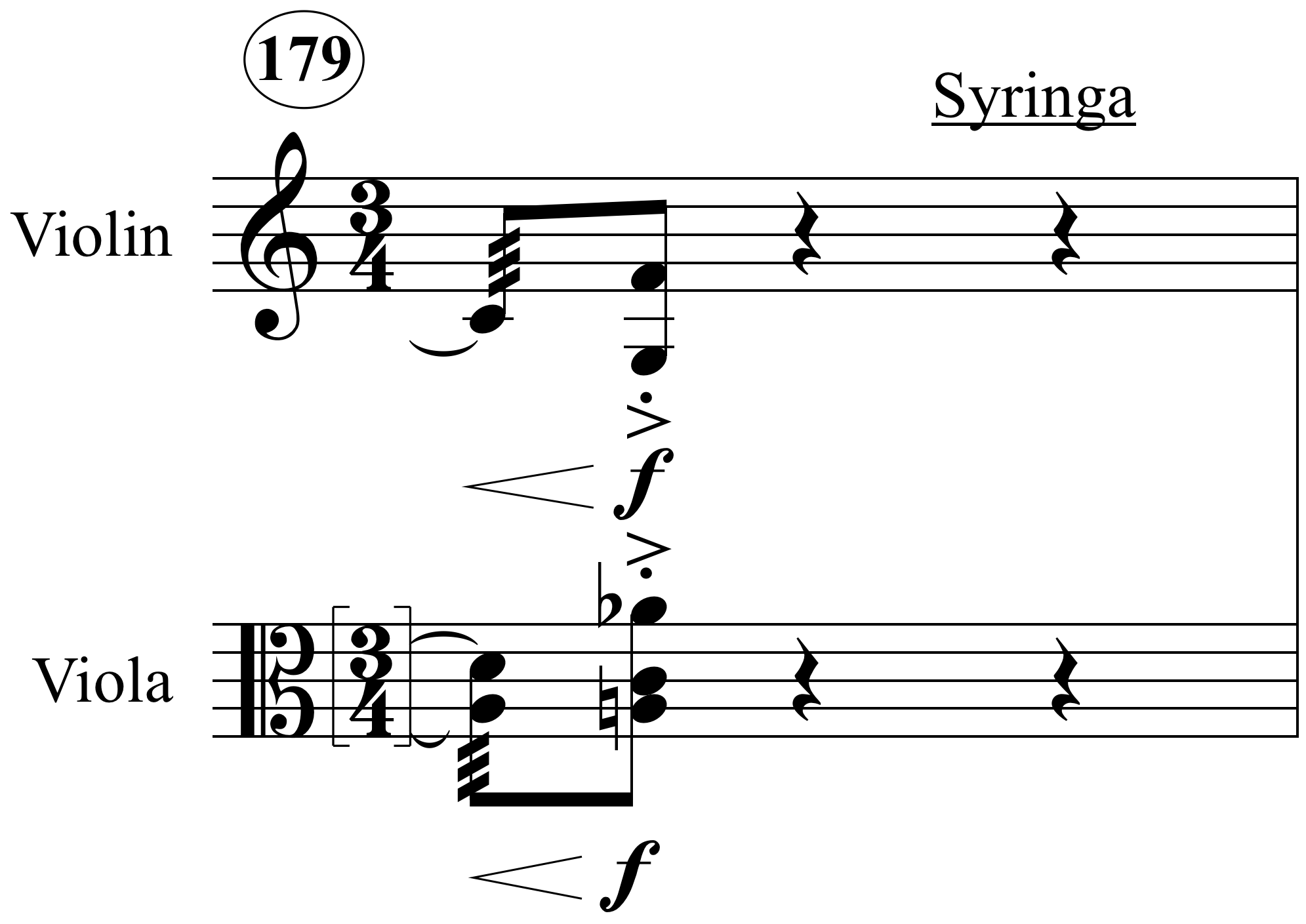 — ◊ —
[63]
New York
29 April 1979
Dear Maureen,
I am sending you the tape of the performance of Syringa which took place in LA on the 27th. I have not had a chance to play it over. I hope it is good acoustically and reasonably accurate – One thing that was disappointing was that the bass miscounted in measure 397 (from what I remember) and got off until around m. 404. After that, I think, things went very well again. Aside from this moment the performance made an excellent effect and was very well sung and performed. The performers are giving several other performances and if I can get another tape that is more accurate I will send it on. But this will, I am sure, be of great help to everyone.
Columbia Records has, at last, decided to edit the Symphony of 3 & Mirror and I worked for 3 days just before I went away on them and hope to finish tomorrow.*
The Composers Quartet is recording the 3rd Quartet on their own with the idea of finding a company to release it this Friday and following.
Krenek was very enthusiastic about Syringa (he even understood the Greek) – being kind enough to make the trip from Palm Springs to Cal.Arts (the building of which was used as a background for 'China Syndrome'). Plenty of filming went on of my teaching, lecturing[,] rehearsing and it is said to have gone very well.
Helen joins in sending our best to you and Michael – remember us to Julian.
Thank you for your letter.
Elliott
*release in October
— ◊ —
[65] New York
23 May 1979
Dear Maureen,
Thank you for calling about the score of Syringa. I have called AMP Miss Eastman and asked for one to be delivered to Richard Duffalo at Aspen Colorado by June first when he will arrive there. In the meantime perhaps he can 'look' at one while at Bath.
David Schiff's opera Gimpel the Fool was done very successfully in Yiddish (as it was so written) to a sold out house & very warmly received. It was folkish as the story is – well orchestrated (after all E is his teacher) and very lively. There are plans to do it in several Universities.
We are packing & packing to leave here for 15 months. I sublet to two professors of sociology – husband at Harvard to spend 3 days a wk here & wife at Rutgers 3 days here. They will pay enough to cover an extra year for us. I could have gotten 2x that, but I prefer people that I can judge rather than Company executives here on a big expense account.
Rain most every other day especially week-ends when many go out of town.
What about your plans to go to Rome. Have they been set. Remember Scelsi is a bit peculiar – and alternates between his charming self and rather touchy & cranky.
Anyway his house is wonderfully well situated overlooking the Forum.
Much love to you dear Maureen.
Helen
after 30th Waccabuc
— ◊ —
[66]
London
5 June 1979
[To Elliott and Helen, Waccabuc]
It seems such a long time since I wrote to you and I've had so many letters from you both. I'm sorry to be such a bad correspondent.
First of all, Syringa: thank you for sending the tape, Elliott, and the corrections. These were all passed on to the people concerned and I know the soloists in particular found the tape very helpful. They gave a splendid performance in Bath though, unfortunately, the acoustics in the Guildhall were not helpful and the strands all tended to run together. However, Bayan was round the back listening to the BBC recording (for future transmission) and he said that the performance came over the microphones very well indeed. When they broadcast it, I'll have a tape made for you. The hall was about three-quarters full in spite of the worst rain-storm we've had for twenty years with wide-spread flooding. Poor Brigitte [Schiff?] only got as far as Chippenham, sat there for three hours because of flooding and then had to turn round and go back to Paddington. The audience seemed to appreciate the work very much[,] even the old ladies in long dresses who frequent Bath Festival concerts. I'll send you the crits when I've gathered them together although we haven't done very well on the dailies. Neither the Telegraph nor the Guardian seem to be covering the Bath Festival and both the Times and the Financial Times are on strike. Peter Heyworth was there, of course, sitting in front of me – very friendly! I managed to retrieve one or two scores and so was able to pass one on to Richard Dufallo who was very pleased to have it.
Bayan told me about your professors that you've let the apartment to. It must be a tremendous upheaval leaving for such a long time. When do you actually go to Rome? Our dates are now fixed for the 27th August to about the 14th September. Shall we overlap? Scelsi is immensely charming in his letters but we shall try and avoid him on the difficult days. The most extraordinary thing happened. I was telling my hairdresser, who is Sardinian, that we were going to Rome and it turned out that he was travelling the same week-end and offered us a lift in his car to Genoa. Isn't that fantastic?
Ruth Ubell was over last week and I had lunch with her – what a nice lady. She told me about the plans for Dublin next January and I've been trying ever since to 'phone Ireland to see if their plans have firmed-up yet but without success. They really are an impossible race. Their post-office has been on strike for over a year now but I shall persevere. She also said, Elliott, that she thought you might have started on the Sinfonietta piece. Can you let me know? Michael Vyner is worrying me again and he says that you said you would let him know by June. Sorry to bother you.
I think I've brought you up-to-date on everything 'though I've no doubt I shall think of something vital after I've sealed the letter.
[From Maureen]
— ◊ —
[69]
London
9 July 1979
[To Helen, Waccabuc]
Herewith tape of Symphony of 3 Orchs. taken from our own master tape which we keep all the time. You really shouldn't send money, Helen. If you send it, Schirmer's will take it but if you didn't send it you'd still get the tape. (Don't tell them I said this!)
Thank you for your lovely letter. I wondered, because of some reference you made to Rome in it, whether you had received my letter of June 5th. The post here has been absolutely shocking with one-day strikes and go-slow and quite a few letters have been lost so I'm sending you a copy (very poor) just in case. I also, later, sent you Syringa crits; have you had them?
I was telling Michael, almost in the same breath, about your well being dug and your petrol problems so he naturally wanted to know if it was an oil well! The problem here with petrol is not so much a shortage; presumably because of North Sea oil, but the price, which is becoming astronomical. It's now £1.40 a gallon and I think that, even if Michael and I could afford to have our car mended we wouldn't be able to afford to run it. I don't think Mrs. Thatcher has done us much good so far.
I went to the American Embassy for a preview of the Charles Ives film. I think I agree with Elliott that it all came over a bit too folksy but I thought Elliott himself was splendid. Anyway, it gave me an opportunity to meet the new cultural attaché – Christopher Snow – who seems to be a very nice man but knows nothing at all about music. I'm going to take him out to lunch and put him wise. Poor old Irving Sablosky had to go back to the States in a hurry as his wife had cancer. We shan't see his like again.
[From Maureen]
— ◊ —
[70]
Waccabuc[?]
22 July 1979
Dearest Maureen,
Thank you again for writing. I should have answered before that we did receive the critics of Syringa and thank you for that too.
We shall go to Rome about October 15 long after your departure. Too bad for us that we will not have the pleasure of showing you around our most favorite places of interest (and showing off a little). Here is a list Elliott made. It is doubtful you will have time to see all these plus just taking time to glance around the Corso and Pincio gardens and sitting at a café on the via Veneto. But dear old Scelsi will be able to tell you just where each place is & if they can be visited together[,] that is if they are in the same neighbourhood, so one does not spend a great deal of time crossing the city uselessly.
We are supposed to go to Aspen next Tuesday 7/31. I hope to be able to make it, that is if I am quite recovered, still suffering from the withdrawal pains (after the Prednisone) from my shoulders to the very bottoms of my feet. Sometimes I am unable to get out of a chair – I'm so bored to have to go through this & appear ill (have lost 18 pounds since July 1) in front of people. Now I am hoping for the best, & that is all I can do.
I send you and Michael much love,
Yrs
Helen
— ◊ —
[72]
Waccabuc
19 August 1979
Dear Maureen,
I hope this reaches you before you have left for dearly beloved Rome. It will be all wonderfully wonderful for you I am sure, as it has been for us many times. We do so look forward to being there again this winter. It may be possible for you both to come down for Christmas with us – that is if we are given a large apartment.
You asked about my "withdrawal pains." I have been told this is quite common when one has quit taking a form of cortisone. This past month has been too trying. Yes, I did go to Aspen thinking that wonderful climate would help. Aspen is 8000 ft up. Oh! It is surrounded by such beauty, always warm sunny days & cold nights from 90° to 45° daily in summer.
All the best to you both and here is hoping you will have a lovely holiday.
As ever yours
Helen
We did get Dominic Gill's review which was most favourable in the Financial Times – but not another one (but then it was reviewed when first played last yr).
Richard Duffalo conducted Syringa at Aspen very well indeed. Jan DeGaetani & Thomas Paul were the voices.
— ◊ —
[73]
London
18 September 1979
[To Helen, Waccabuc]
Second day back at work after the most marvellous holiday I think we've ever had!! It's far too long a tale to start telling you in a letter but Elliott's list is now incredibly tatty and worn away through long sojourn in Michael's back pocket. Giacinto [Sclesi] made us incredibly welcome and we couldn't have had a more kindly host. I do envy you spending the whole of the winter in that incredibly beautiful city. I expect you must be almost ready to go now – it must be a tremendous upheaval packing for such a long stay but worth every bit of trouble. This first paragraph is far too full of adjectives!
You letter of August 19th wishing us a happy holiday was waiting here when I got back – it must have just missed me, but the post is so terrible at the moment. I'm only hoping that this will get to you before you leave.
I believe Julian rang and told you about Dublin; isn't it good? The final programme is as follows:-
January 4th:– Evening concert – RTE Symphony Orchestra – Variations
January 6th:– Afternoon concert – Ulysses Ensemble – Syringa, Cello Sonata, Woodwind Quintet
January 7th:– Lunchtime concert – "Concorde" – Sonata for Flute, Oboe, Cello and Harpsichord
I'm so glad you and Elliott are coming. It should be a fun week-end. I'll have to write down the side of this paper as I can't start a new bit.
[From Maureen]
— ◊ —
[76]
London
18 October 1979
[To Helen, American Academy in Rome]
Thank you for your letters of both September 27th and October 6th. I thought I'd better write to the Rome address now, as I'm not sure that this letter would reach America before you left. I do hope that you're feeling better and that lovely Rome will just finish off the cure. Thank you also for sending the bio details. I've sent them all off to Dublin – I am looking forward to that trip.
I'm enclosing a couple of reviews of the Symphony of 3 Orchestras Prom performance which appeared in the monthly magazines. I'm also enclosing a leaflet from the London Sinfonietta which I though Elliott ought to see – I've marked the appropriate bit. Is there any news?
The BBC broadcast the Bath Syringa last Saturday evening and made an announcement after the programme to say that they would be re-broadcasting it again on Tuesday week along with the Variations. I think that's rather good to get two opportunities of hearing it in such close succession.
I don't think there's any more news – have a lovely time in Rome.
[From Maureen]
— ◊ —
[84]
London
5 February 1980
[To Elliott, American Academy in Rome]
Dear Elliott,
Here is the letter I promised you on the telephone and a copy of the errata list from Sue.(7)Probably Sue Knussen who edited and proof-read many contemporary scores. She has, in fact, put all the things she mentions into the parts.
I broke off this letter to go and have lunch with Robert Ponsonby and, having mentioned the Piano Concerto, I have discovered from him that it's not being performed in May, but is actually part of the Proms, scheduled for performance on September 9th.
The other two important dates coming up are Tuesday, March 18th, London Sinfonietta performing Mirror (in place of the commission!) and Sunday, April 13th, the Nash Ensemble doing the first London performance of Syringa. Is there any possibility at all of your coming for the Syringa performance now that the Piano Concerto is not until September? I know it's a bit soon after going home from Rome but it would be such a tremendous thing for the Nash, who are really an excellent group, if you could consider it.
I'm enclosing a cutting from an American percussion magazine which Jimmy Blades sent me – quite something to be second in the Top 50!
I do hope dear Helen will feel better soon. I'm sorry about the pills, but nobody would let me have them.
[From Maureen]
— ◊ —
[88]
[no address]
18 April 1980
Dear Maureen,
The watch was delivered to a friend in NY via David Drew. Anne gave it to him before he left for NY thinking that would be a very direct way of getting it to me. I did so want it left in London so you could have it. Now I shall find a way of getting it to you. I think the new one I bought at Selfridges 2 days after Christmas as I have the yr guarantee which can be easily used by you.
We have your usual cold one day warm the next spring weather but mostly all days are sunny which is nice.
Elliott finished the piano piece Night Fantasies. Ursula Oppens has been working on it for some weeks getting ready for Bath.
Did ever you manage to get a tape of either Syringa – Nash Ensemble or Mirror – London Sinfonietta? If so we should be happy to have one or both and will send a check to cover the expenses.
I want to report that my health has much improved since our return and I am able to eat normally.
With this goes all good wishes for you and Michael, and many thanks for everything.
Love
Helen
Noel Lee was here from Paris for a week. He said that the French music publishers were not only cutting down on their publications but several have folded-closed!
— ◊ —
[99]
London
14 July 1981
[To Elliott and Helen, New York]
I thought that passing the enclosed on to you was as good a reason as any for writing a letter, which I've been meaning to do for weeks. If you don't know where the contract is, let me know and I'll get a copy from them. I suppose dear old Aunty BBC must have all the i's dotted and t's crossed in their usual Civil Service fashion.
I spoke to Michael Vyner again about the new work. He said he didn't think he could put the new work on this winter unless he fitted it in in a hole-in-corner fashion which would be a less than perfect event. He's planned his whole series of concerts around it for the Autumn of '82 and already booked Philip Langridge to sing it. Of course, as you know, they do make their plans an awful long time in advance and I didn't manage to persuade him. I don't know if you think it's worthwhile having a go at him direct.
I also spoke to poor old Irvine Arditti who has just been in hospital with some sort of rare blood poisoning. He's getting better, but has still got lumps under his arm which makes it fairly painful for playing the violin. I don't think he's going to change his Venice programme but he's getting all geared up for next year. He's already been approached by the Holland Festival to play something of yours 'though he's not yet heard from Copenhagen. William has been on to him trying to persuade him to learn the First Quartet but I think he's favouring the second. I told him he should learn all three and he says he will, in the fullness of time – he thinks you're marvellous, Elliott (and quite rightly so).
I'm in the middle of persuading Edinburgh Festival to do Syringa. I'm not sure if this is for next year of the year after but they're having Sarah Walker and the Nash Ensemble and they thought it might be a Good Thing. I'll let you know how I get on.
We're at last having some weather which might conceivably pass for being summer including a monsoon last week which flooded the downstairs shop. The Strand has come out in red white and blue for that Wedding.(8)The wedding of Charles, Prince of Wales and Lady Diana Spencer, 29 July 1981. Needless to say, seeing as we have a public holiday, I shall be spending the Day in lovely Horsham rather than trailing up to the office to gawp at the passing parade.
We just had a most perfect week-end. I was asked to take a little choir down to Havant (in Hampshire) to give a concert and so I chose all my favourite amateur singers, my favourite choral conductor and all my favourite bits of Byrd and Palestrina for the programme. After the concert, we were invited to our friend's boat where we spent the night and then sailed in the Solent the next day – wasn't that lovely?
I do hope you will be able to get to England in September. As always, we look forward tremendously to seeing you both.
[From Maureen]
— ◊ —
[101]
Waccabuc
17 October 1981
Dear Maureen,
It was such a pleasure to see you and Michael in Venice and to make our mad rush eating sandwiches in a motor boat – from one dissonance to another.
I write this hasty note, on the way to Long Island where Gregg Smith is recording some more of my men's choruses, to complete the recording of all my early choral work this afternoon and tomorrow.
While in Venice I forgot to tell you that Dr van Rossum came to see me in Paris and we discussed many possible programs.(9) Frans van Rossum, Director of the Eduard van Beinum Foundation (1980-1983). He would like very much to have a score of Syringa – would you send it him, or if protocol makes that impossible would you call Dr. Kunz in Berlin and find out if he has it and will send it. I am sending a cassette of the recording today. I think it important to start all these things right away as his plans seem a little nebulous and he could perhaps be encouraged to do some of the more recent works.
Also Cathy Berberian, who is having trouble with her eyesight, wants to do some of the songs and needs recordings. If you have copies of Voyage and Three Poems of Robert Frost, on a recording would you please send them to her?
Life is full of Xeroxing, sending info to Italian critics etc. we hope it will settle down soon.
Affectionate greetings from us both to you both,
Elliott
— ◊ —
[103]
London
23 October 1981
[To Elliott and Helen, Waccabuc]
I've already been back more than a week and have only just managed to get round to writing to you. I suppose it was the wrong time of year to go away and things had piled up mightily in my absence.
First of all, I must answer Elliott's letter of October 17th. I spoke to Dr Kunz in Berlin and he said he had a score of Syringa and would send it to Franz van Rossum [sic]. Did Franz say anything about the Arditti Quartet? There seems to be a stumbling block there at the moment as the Quartet are giving a concert early next year in Hilversum and, for some reason, the Holland Festival are looking on this as an excuse not to employ them although Irvine said it was a completely different programme. As far as the Three Poems and Voyage are concerned, I seem to have got rid of my copies of the Meriel and Peter Dickenson record which contains them. I've asked Unicorn Records to send me another couple of copies but, meanwhile, could you give me Cathy Berberian's address? I do have one for her, but I suspect it's out of date and I would hate the record to go astray.
Back on the subject of the Arditti Quartet, Irvine rang me a few days ago to say that they had been asked to make a record by RCA. The Arts Council are putting up money for one side which is to contain works by Jonathan Harvey and Brian Ferneyhough and Irvine has persuaded RCA that is would be a Good Thing artistically if Elliott's Third Quartet should be on the other side, providing other backing can be found. I seem to remember that, when there was talk some time ago of a Carter recording being made over here, you seemed to think there might be some money available from America for it. Would it apply in this case, because it's not easy to find financial backing in England for a foreign composer. Can you let me know?
Meanwhile, I've just applied for a job with Trinity College as their Orchestra Manager. I don't suppose I shall get it and I'm not awfully sure that I want it but the salary they're offering is half as much again as I'm getting now and, even if I only got an interview, I might be able to use it as blackmail. I tell you this because, as you so kindly said I might, I used Elliott's name as a referee, though I don't think they will ever take up references.
Don't forget, if you do come at Christmas, you are invited to us for Christmas Day unless there's something else you'd rather do. If you do decide to come, Michael will borrow a car and come and fetch you and take you back, there being no public transport on Christmas Day. This is no problem!
I'm enclosing one or two crits of the Solti Variations performance, plus one or two bits and pieces that Michael thought might interest you. There's also a crit of The Magic Mountain by my latest acquisition, John Hopkins – not bad from Stephen Walsh.
It only remains to say thank you once again for all your kindness and generosity. Without your help, we could never have had such a comfortable and extensive holiday. We can never repay you, except with our love, which you have.
[From Maureen]
— ◊ —
[107]
This letter was sent from Maureen's home address, not from Schirmer's.
15 April 1982
[To Helen]
I've been wondering for the last fortnight whether or not to write this letter to you but I keep brooding about it and it gets worse and worse so I thought I'd better get it off my chest.
I was terribly hurt that, until I asked outright, you hadn't thought it necessary to let me know that the Sinfonietta piece was going to Boosey's, although I'd been so involved in it from the start. After I'd spoken to you on the telephone, I rang Michael Vyner to tell him and it appeared that he'd heard from you about it at the end of February and now it appears that practically everybody in London knew except me.
The last thing Elliott said to me about publishing was that the idea of a contract with Boosey was too complicated because of the BMI/ASCAP thing and that he intended in future to offer each work as it came along to Schirmer and not sign a contract. I can understand entirely why he doesn't want to continue being published by Schirmer Inc. (although I'm particularly sad not to have In Sleep, In Thunder) but, because of what Elliott said, I'd already started doing things about the piece like letting the BBC know and mentioning it at the end of an advert we did in a Sinfonietta concert programme earlier this year, so I don't only feel very upset but also rather silly.
Please, dear Helen, don't take this letter amiss. I had to write and tell you how I felt because otherwise it would have got worse and now, hopefully, I can relax and go back to normal. Your's and Elliott's friendship means a very great deal to me and I don't want any shadows to darken it.
[From Maureen]
---
Footnotes
1. 70th Birthday Tributes published by G. Schirmer (London).
2. Helen had been prescribed Prednisone, a corticosteroid drug, to treat an inflammatory muscular condition.
3. Also on the staff of G. Schirmer (London).
4. Sir William Glock was Commissioning Editor of Eulenburg books on music for Schott's from 1973-1986.
5. Michael Vyner was Musical Director of the London Sinfonietta from 1972-1989.
6. Bayan Northcott, English composer and, in 1979, critic for The Sunday Times.
7. Probably Sue Knussen who edited and proof-read many contemporary scores.
8. The wedding of Charles, Prince of Wales and Lady Diana Spencer, 29 July 1981.
9. Frans van Rossum, Director of the Eduard van Beinum Foundation (1980-1983).
---
Work Cited
Meyer, Felix and Anne C. Shreffler. Elliott Carter: A Centennial Portrait in Letters and Documents. Woodbridge, Suffolk: The Boydell Press, 2008.
---